Obsidian Importer allows you to convert your data from a variety of proprietary formats to portable, durable files. These files work with any Markdown app, so you have control over your data, and are not locked into any tool.
Today we're excited to share that Importer now works with Apple Notes, and is compatible with its many content types — including internal links added in iOS 17. See our guide: How to convert your Apple Notes to Obsidian.
Three months ago, we introduced Importer as an open-source project. Thanks to contributions from the Obsidian community, Importer supports converting your data from Notion, Evernote, Google Keep, Microsoft OneNote, Bear, Roam Research, HTML files, and more.
The latest version of Importer tackles the most challenging format to date: Apple Notes.
Unfortunately, Apple Notes is one of the few note-taking apps that does not have a built-in export feature. Because Apple Notes uses a proprietary format, it makes data complicated to migrate, and nearly impossible to use in conjunction with other tools.
Apple Notes supports content such as tables, images, drawings, scans, and PDFs. As of iOS 17 it also supports links between notes. This breadth of content makes the conversion process more challenging. Here's the good news: all of these content types can now be extracted using Obsidian Importer.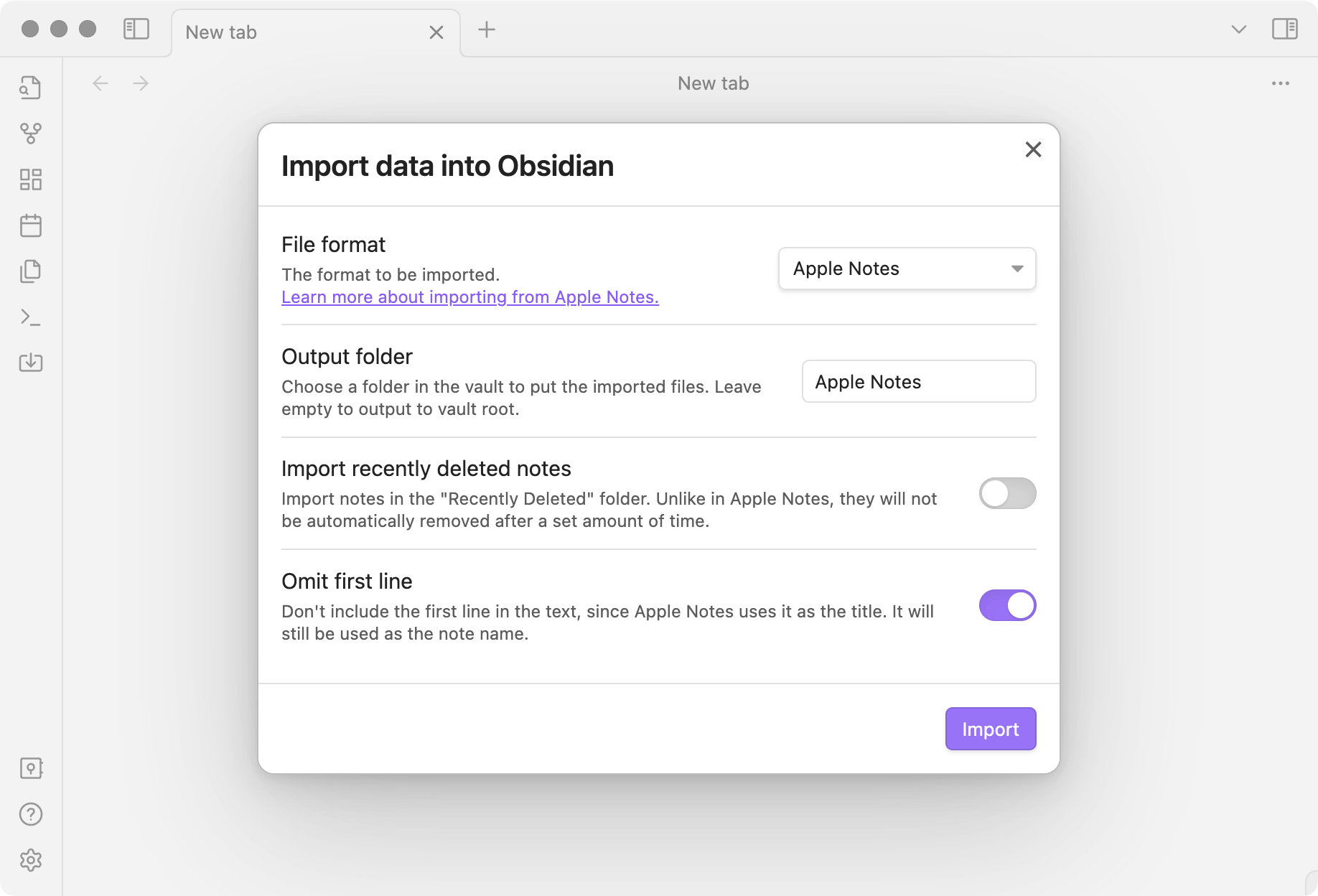 So, how does it work? Apple Notes stores your data in a local SQLite database. This data is in an undocumented format, but it's possible to decode how it is stored and convert it. Decoding the Protocol Buffers stored in the Apple Notes database was made possible by the work of Jon Baumann from Ciofeca Forensics and its adaptation for Obsidian by Mir Novov.
Whether you're planning to migrate away from Apple Notes or just want to back up your data, the new Obsidian Importer gives you the freedom to easily convert your Apple Notes to portable, durable files.