The place for your
knowledge to shine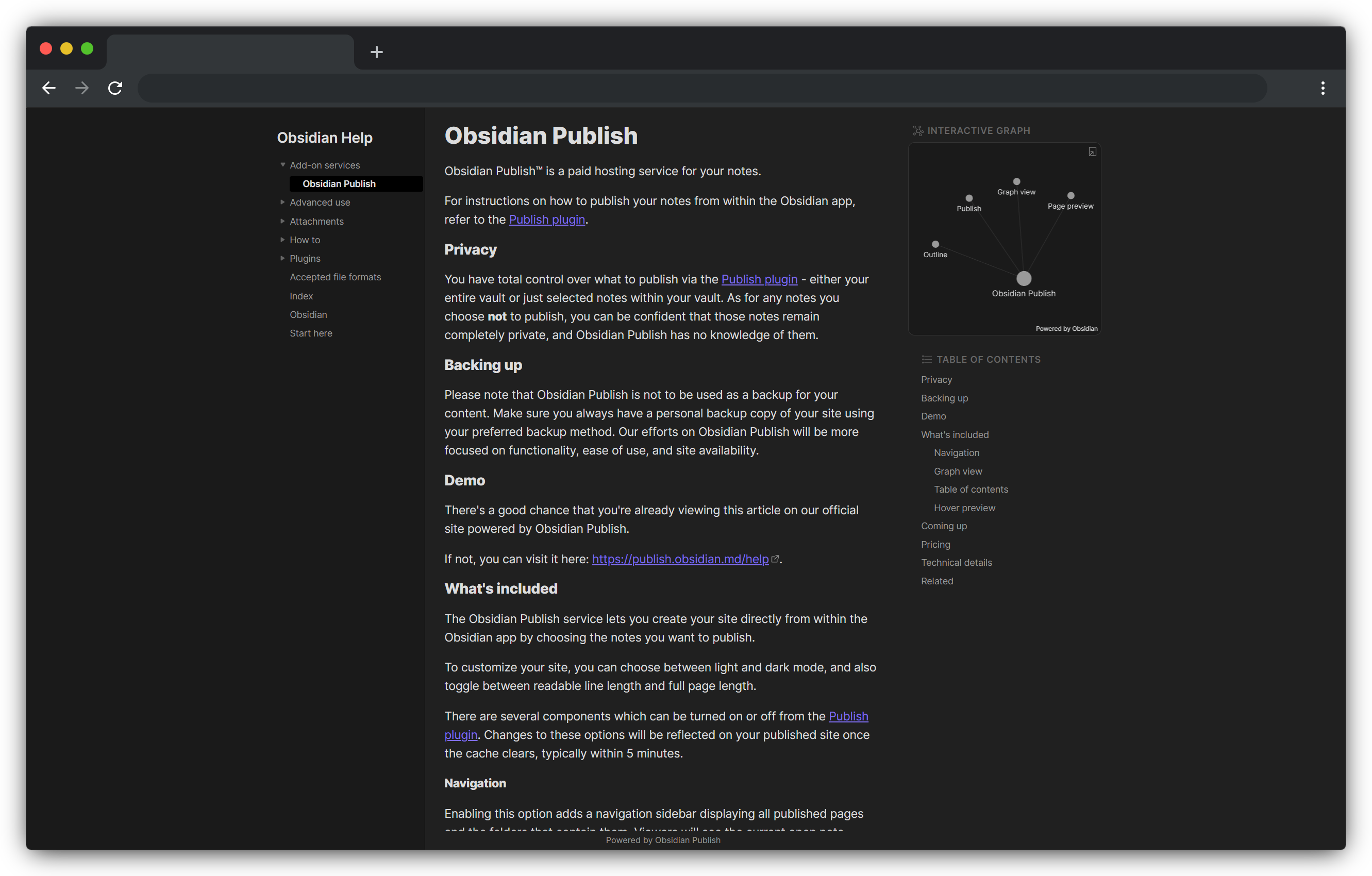 Screenshot taken from Obsidian official help (click for live demo)
Open the door
to your world
Obsidian Publish is the easiest way to show the world all that you've learned.
Setup in minutes
Pick a site name, select some notes, and click "Publish".
Voilà, your site is up and running! It's that simple.
As unique as you
You can customize the logo, layout, domain, and appearance of your site.
There are so many customization possibilities, your site will never look the same as someone else's.
Write something great together
As the owner of the site, you can invite others to contribute as well.
Perfect for anything from a fun project between friends to an amazing product wiki.
The Obsidian touch
Obsidian Publish gives your readers the Obsidian experience that you love.
Consistent formatting
Obsidian specific formats like embeds and callouts work out of the box.
Spend more time working on your notes, and less time converting your notes for publish.
Reading experience
Turn on Hover Preview to give your readers the Wikipedia-like reading experience. Hover Previews are nestable—watch your readers go down rabbit holes and immerse themselves.
Enhance the reading experience with Sliding Windows (credits to
Andy's notes
). Your readers can open a dozen of pages and shuffle between them easily like pages on a desk.
Prime for
premium

content

Your content might be worth more than you think.

Obsidian Publish gives you the tools to start monetizing the content you pour your heart and soul into.
Password protected
Obsidian Publish lets you restrict access to your site by setting up multiple passwords.
Offer them to your paid members only and get the rewards your content deserves.
Analytics for your content
Learn which pages are doing well and which need help. Optimize your content.
Simply put your Google Analytics tracking code and wait for data to flow in.
Reader comments
Coming soon
Comments is the easiest way to get to know your readers and their insights.
With the upcoming Disqus comments integration, get rapport and feedback from your audience.